ToranomonHills & Online
(partial)
All ILS2023 POWER MATCHING account members can participate for free.
*Japanese-English simultaneous interpretation service will be provided online.
Therefore, please be sure to bring your earphones and smartphone when coming to the ILS venue.

7th Dec. 18:00 - 18:30

Toranomon Hills 5F Main Hall

Online: Channel1
Lang: Only Japanese (no simultaneous interpretation)
The Dividing Line Between Companies that will Survive or Disappear in 10 Years
---
What decisions and actions should large companies take to generate new business?
\ NOW ON STAGE /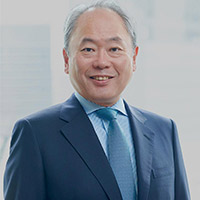 Kazuhiko Toyama│IGPI Group Chairman, Industrial Growth Platform
Kazuhiko Toyama│IGPI Group Chairman, Industrial Growth Platform
Kazuhiko Toyama has started his career with BCG and later became one of the founding members of Corporate Directions, Inc. (CDI), a Tokyo-based independent management consulting firm, eventually becoming its CEO. In 2003, he was appointed to lead Industrial Revitalization Corporation of Japan (IRCJ), a government-backed restructuring fund, as COO. In 2007, when IRCJ was dissolved, he founded Industrial Growth Platform, Inc. (IGPI), and served as CEO until September, 2020. CEO, Japan Platform of Industrial Transformation, Inc. (JPiX). Outside director of Panasonic Corporation. Chairman of Japan Association of Corporate Directors (JACD), Member of the Council of New Form of Capitalism Realization (Cabinet Secretariat). He graduated from Faculty of Law of the University of Tokyo and holds an MBA from Stanford University. He has passed the Japanese National Bar Examination.
If you watch, your registered account information (name, email address, business card image, etc.) will be provided to the speaker.